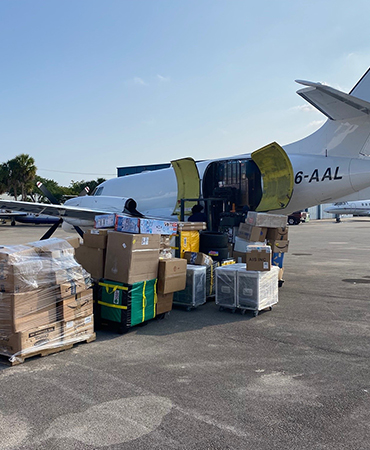 Aircraft Propulsion Leasing Announces a Cargo BAe Jetstream 31 Long Term Lease with Azure Aviation
LAUDERDALE, Florida August 31, 2022 – Today, Aircraft Propulsion Leasing announced placing a highly modified, BAe Jetstream 31 turboprop aircraft in an all-cargo configuration with Azure Aviation in Nassau, Bahamas on a long-term lease. "This aircraft has the perfect combination of size, speed and economics for this theatre of operations," said Leon Custers, Vice-President at Aircraft Propulsion Leasing.
Positive Customer Impact
This Jetstream 31 aircraft has proven itself over the last 15 years to be a reliable and versatile solution for both loose as well as palletized cargo.  Delivered with new paint and upgraded avionics, the aircraft has the capacity to move 18,000 pounds of cargo between Ft. Lauderdale and Nassau per day with a single flight crew, significantly increasing capacity and reducing cost per cubic foot.  "The addition of the Jetstream to our operating certificate will allow us to serve our Caribbean based customers even better," said Godfrey Wallace, President of Azure Aviation. "The Jetstream 31 will be a game changer!  Azure Aviation is looking forward to starting operations with this aircraft in early December."
About Aircraft Propulsion Leasing
Aircraft Propulsion Leasing is a leading global turboprop engine and aircraft leasing company based in Holland Ohio. APL and its team of dedicated and experienced professionals are principally engaged in the purchase, sale, leasing, rental and trade of turbo-prop engines and small commuter aircraft and deploying them with its customers worldwide through customized aircraft leasing and financing solutions.
About Azure Aviation
Azure Aviation Ltd. is a leading air charter and air cargo company providing service between the Islands of the Bahamas, South Florida and the Caribbean. 
For More Information:
Leon Custers
(615) 624-4380
leon.custers@aplengines.com
For more information on moving cargo in the Caribbean:
Mary Jane Smith
(954) 532-6928